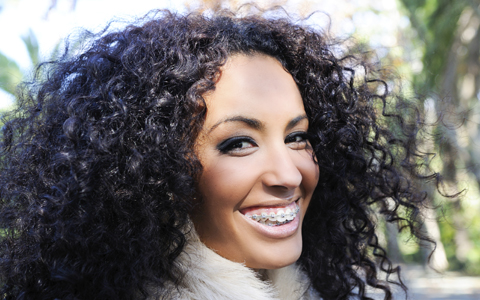 Braces are a great way to get straight teeth that can last the rest of your life. We offer both metal and ceramic traditional braces so our patients can choose their preferences while receiving the benefits of straighter teeth and a brighter smile.
Why Choose Traditional Braces?
Put simply, traditional braces work! You'll see definitive results after your treatment is over and by maintaining your smile, you can expect those results to last for years and years.
Straightening your teeth can have a greater effect on your life than you might expect. In our experience, patients who are happy with the way their smile looks tend to have more self-confidence and pride in their appearance.
Beyond simply improving your appearance, traditional braces can improve your bite and your dental health as a whole. When your permanent teeth are crooked, it can interfere with the way your top and bottom teeth connect. This can give you an uncomfortable bite that may impact your health later on. Braces can fix this problem before it has time to develop!
If you're looking for a way to improve your dental health and also give you that confidence boost you've been looking for at school, work, or home, traditional braces might be a great option for you! The next step is determining which style of traditional braces you're most interested in.
Ceramic Braces
While ceramic and metal braces both work the same way and on a very similar timeframe, there are noticeable differences between them. One of the biggest differences is in appearance; while metal braces tend to be very noticeable against a patient's teeth, ceramic braces are designed to blend in with your tooth color to look more natural.
With ceramic braces, casual observers are less likely to notice you're wearing braces at all. While metal wires may still be visible, the brackets themselves are made of color-matching ceramics. If you're self-conscious about wearing obvious metal braces, ceramic braces might be right for you!
Metal Braces
While metal braces are more obvious and eye-catching than their ceramic counterparts, they have their own advantages. Metal braces generally cost less than ceramic braces, which makes them more accessible for more people. Metal braces are also slightly more durable than ceramics, which means you'll be less likely to experience breaks or damages to your braces.
Whether you choose ceramic or metal braces, you can expect great results and a fantastic smile when your treatment is over!
What is the Process of Receiving Traditional Braces in Yuma, AZ?
Before Braces
The first stop is a consultation with your dentist. Your dentist will sit down with you to determine what your dental goals are and whether traditional braces are the right treatment for you and your teeth. This is a good time to ask any questions you might have.
We always encourage our patients to get their teeth professionally cleaned before they have their braces put on. Since traditional braces stay on your teeth for several months at a time, it's a good idea to get a thorough cleaning first!
Before your braces are placed, your dentist will take x-rays of your jaws and teeth. These x-rays will be used to customize your braces and make them exactly what you need for your teeth, and for the best straightening experience.
Receiving Your Braces
When your braces are placed, your dentist will use a strong sealant to hold them on your teeth long-term. Next, the braces' wires will be placed through the connective points on your teeth. Placing the braces is a painless, straightforward experience.
Once your braces are placed, you'll be scheduled for follow-up appointments. You can expect an appointment every few weeks where your dentist will make sure your progress is on track, and will make any minor adjustments your braces might need.
Before long, your treatment will be finished and it will be time to remove your braces! You can expect a straight smile as soon as your braces are removed.
If You're Ready for a Straighter, Brighter Smile, Try Traditional Braces
Contact us today to learn more about what our traditional braces can do for you! We're excited to help you improve your smile. Here's what one of our recent patients had to say about their visit:
I highly recommend this office, I have had a hard time finding an office that is open on Saturdays, that is willing to work on my girls who have dental braces, and above all that are friendly and passionate. I have been to this office 2 or 3 times and they recognize me right away and are so welcoming. Definitely a family dentist. – Alejandra D