Denture Implants Available In Yuma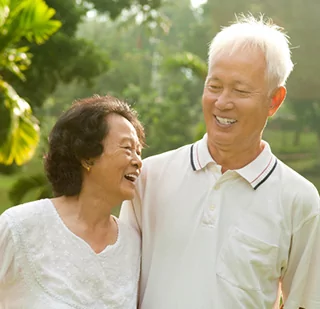 Have you ever felt dissatisfied with your traditional dentures? Traditional dentures are sometimes difficult to live with because they tend to slip and slide around in the mouth. If you wear removable dentures, you may be constantly worried that they will become obvious while you socialize or eat.
In addition, removable dentures present health complications. Because traditional dentures simply sit on the gumline, they do not offer the jawbone the stimulation that it needs to stay strong and healthy. When the jawbone is not properly stimulated, it could deteriorate or collapse.
Implant supported dentures will change the way you think about false teeth. Permanent dentures revolutionize the comfort and appearance of replacement teeth.
Get Peace of Mind with Denture Implants
Full mouth dental implants from our Yuma dentist will allow you to relax and act natural while you speak, eat, and smile. They are held securely in place at all times, so you never have to worry about your dentures shifting or falling from your mouth.
Implant supported dentures look and act just like real teeth. Our state-of-the-art permanent dentures can even help you feel more outgoing and give you new confidence in your work and personal life.
Protect Your Health with Implant Supported Dentures
Traditional dentures can't protect your jawbone or any remaining natural teeth. Even when you're wearing removable dentures, your smile will continue to decline.
A deteriorated jawbone will make speaking and eating difficult. It will also give you a prematurely aged appearance.
With denture implants, you can prevent the complications caused by a weak jawbone. Denture implants will provide your jawbone with the stimulation it needs to stay healthy and strong.
Come find out more about how our denture implants can improve your life. Call us today at The Yuma Dentist to get an appointment time during our flexible hours. We are open six days a week and we are happy to work around your schedule if you are in the Yuma – Fortuna Foothills area.