Dental Implants
Tooth Implant Dentistry With Your Yuma Dentist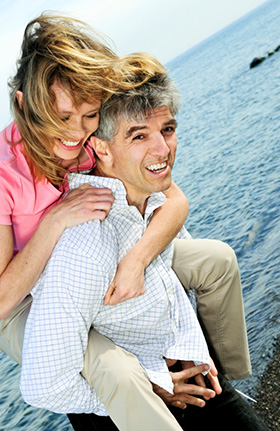 Implant dentistry has forever altered how dentists think about dental technology and tooth replacement. A tooth implant is a special metal alloy post anchored to the jawbone that essentially acts to anchor dental devices and improve support to jawbone structure.
Dental implants can be used in a number of different ways. Some of the ways dental implants and implant dentistry can be used include:
Single Tooth Replacement | Utilizing a tooth implant, we can replace a single missing tooth safely and permanently. First, the tooth implant is placed inside the jawbone. Secondly, once the jawbone has healed, we can anchor a beautiful porcelain crown to the tooth implant, essentially creating a "new" tooth.
Mini Implants | For a more conservative implant dentistry procedure, we can offer mini implants. These implants are even smaller than conventional ones, but they offer the same stability for your tooth replacement. Mini implants can offer you a secure, naturally beautiful smile that you will love!
Dentures | In the past, if you were missing most or even all of your teeth, the only solution available was to have traditional dentures made. Now, we have an exciting new way to use dental implants combined with dentures, creating a permanent tooth replacement solution without the negative side of traditional dentures. With implant dentistry dentures, you never have to worry about slipping, sliding, clicking, or your teeth coming out because implant supported dentures are safely, comfortably, and permanently anchored to dental implants.
The All-on-4® Treatment Concept | This concept is a highly efficient form of implant dentistry for those seeking a permanent denture solution- fast! With the All-on-4® treatment concept, we can place only a mere 4 implants as well as the permanent dentures in a period of 24 hours or even less!
Dental Bridges | In some cases, dental implants can be utilized to replace multiple missing teeth in the form of a permanently anchored dental bridge, helping to fill in the gaps and improve the beauty of a smile.
Dr. Mann and his team are proud to be able to offer this marvelous innovation in dental technology to their patients and their families. With dental implants like never before, you can permanently replace missing teeth and get the smile back that you may have lost.
Have more questions for us about this fantastic dental technology? Get in touch with our Yuma team today if you are in the area, including Fortuna Foothills!
Related Content