Get Straight Teeth with SunClear Aligners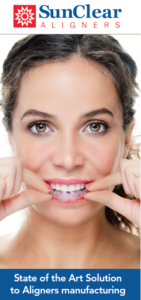 If you have been looking to straighten your teeth without the need for traditional braces, we have a potential solution for you: SunClear aligners. This incredible teeth straightening technology has made it so adults can straighten their teeth without having to worry about brackets or wires—or conjuring up memories of being a teenager.
SunClear aligners have a number of fantastic benefits including:
Time | With SunClear invisible aligners, you can have straight teeth faster! On average, in as little time as six months to one year, clear aligners help teeth become straighter and smiles more beautiful. Compared to the average of two years for traditional braces, SunClear aligner treatment is quick indeed!
Appearance | Unlike traditional braces of the past, these clear aligners use no wires or brackets. Instead, SunClear aligner trays are made of a nearly invisible clear plastic. This makes it so you can straighten your teeth without those around you noticing!
Hygiene | SunClear aligners use removable aligner trays that gradually help crooked teeth become straight teeth over time. These aligner trays, unlike traditional braces, are removable, which means that you can continue to maintain the same standard of hygiene care that you had before receiving your braces treatment.
Convenience | Another added advantage of SunClear aligners being removable is that you can continue to eat the foods that you enjoy! With SunClear aligner treatment, you can simply take out your aligner trays, eat the foods you love, and put the trays back in to continue straightening your teeth.
Teeth Straightening Solution
We are proud to be able to offer this fantastic teeth straightening service to our Yuma–Fortuna Foothills patients seeking to beautify their smiles and straighten their teeth. SunClear aligners have helped adults around the globe to have the smiles they desired, and we have been thrilled to see the difference SunClear invisible aligners have made for many of our patients.
Get SunClear Aligners in Yuma and Fortuna Foothills
Have more questions about SunClear aligners or our other orthodontic options? Get in touch with us today if you are in Yuma or Fortuna Foothills!