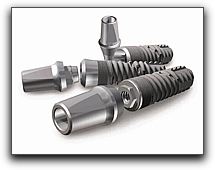 Are dental implants worth the investment? Absolutely!
A dental implant is a permanent tooth replacement that looks, feels, and works like a natural tooth.
The actual dental implant material is usually titanium. A post is surgically inserted into the jaw bone to replace the root of the missing tooth. The post integrates with the bone to provide a stable foundation. This is critical because the root replacement post helps prevent jaw bone deterioration that ordinarily occurs after a tooth has been lost.
When the implant has integrated securely with the bone (it can take three to six months), a smaller post is attached. This post extends above the gum line. The artificial tooth (crown) is then attached.
The revolutionary dental implants available in the Yuma and San Luis, AZ, area are extremely versatile and can be used in a variety of configurations. One dental implant can replace one missing tooth. A series of implants can replace more than one tooth or anchor a dental bridge. Yuma denture wearers should know that tooth implants can also act as a sturdy base for partial or full dentures.
When calculating the cost of dental implants in Fortuna Foothills, it's essential to compare them to other restorative options such as a dental bridge.
Call 928-318-6346 to schedule a visit to discuss your dental goals and the possibility of affordable dental implants. If you are missing one or more teeth, you owe it to yourself to get dental implants information.