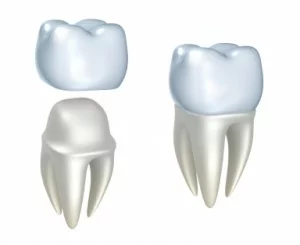 A lot goes into a dental crown and that includes your money! If you are going to make such a large investment, then you want that crown to look great. It takes a lot of skill however, to get the correct texture and shading so that the crown could pull off looking like any one of your natural teeth
Shading: Every tooth is just a little different and so meticulous notes and analysis must be done in order to let the lab know exactly what is needed. Your dentist will do his best to do this, but nothing is better than years of experience to ensure the right outcome. In order to get the perfect crown, it also requires a good relationship with the dental lab which an experienced dentist will have.
Strength: It would be a sad day if you paid for a crown and it were to break or fracture a year later. This is unfortunate, but it has happens. A discussion with your dentist about the strength of the material being used is important. Crowns with porcelain won't be as strong an all gold crown. Be sure to tell your Cosmetic Dentist about any grinding or clenching that you are aware of because this can be taken in to account when choosing the best possible material.
Dental crowns are great restorations and can last for decades with an esthetically pleasing result, but be sure to choose a dentist that will be able to help you in this decision. If you want to talk to Dr. Mann, call us to set up a consultation.