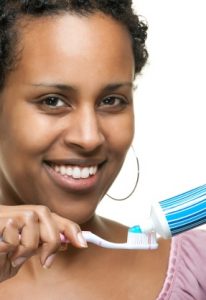 Are electric toothbrushes any better at cleaning your teeth than manual toothbrushes? The answer depends on who you ask, because both have their advocates. In this article from The Yuma Dentist, we aren't going to recommend one over the other. We're just going to take a look at the world of the electric toothbrush.
Electric toothbrushes have been commercially available in the United States since the 1960s. But they first appeared in Switzerland, where they were invented. They caught on quickly, and have evolved considerably since then. When it comes to electric toothbrushes, there is a lot of choose from.
Those earliest electric toothbrushes did not have rechargeable batteries; you had to plug them in. That wasn't really much of an issue, unless you like to walk away from the sink while you brush.
Rechargeable batteries are standard in most modern electric toothbrushes. In fact, they have features that those 1960s inventors probably never dreamed of. Some models have:
Timers, so you can make sure you brush at least two minutes
Digital alerts, to remind you it's time for a new brush head
Pressure sensors that tell you if you're brushing too hard
Multiple brush head capability, so different types fit
Variable brushing features like pulsing and oscillating capability
Sonic
And then there's the sonic toothbrush. Sonic toothbrushes take electric brushes to a whole new level. Toothbrush manufacturers consider them a subset of electric brushes, but we think they are in a class by themselves.
Sonic toothbrushes can deliver up to 40,000 strokes per minute. Compare that to an ordinary electric toothbrush, which deliver between 2,500 and 7,000 strokes per minute. That's quite a difference. For some people, that's over the top. But advocates say that sonic toothbrushes out-perform any other type of toothbrush you can find.
When all is said and done, it depends on the person doing the brushing. A manual toothbrush used properly does a fine job cleaning your teeth. But you can always take it to the next level with a standard electric, or even a sonic, toothbrush.
At The Yuma Dentist in Yuma AZ, what we really want is for each of our patients to brush and floss their teeth twice a day. It's the best way to ensure good dental health. Our services include general and cosmetic dentistry. Schedule an appointment with us today. We also have an office in Fortuna Hills.
Contact The Yuma Dentist:
Location (Tap to open in Google Maps):